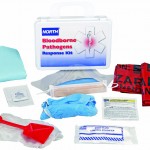 Blood borne pathogen response kit contains personal protection plus items used for cleanup of body spills.  If you are looking at this kit, you probably know what it is used for. It's a nice kit that has everything you need ready to go.
– Packaged in heat sealed bag to ensure all items are available when needed
– Comes with extra large refillable hard plastic case for additional storage space
– Each case is clearly marked for quick identification
Contents: Absorbent Towel (1). NOS021635M Antispectic Wipes, BZK (1). NOS021602 24″ X 24″ Biohazard Bag ( 2). NOS021620 Germicidal Surface Wipe (1). NOS021630 Gown (1). NOS029999 Medical Gloves (2). NOS021650 Shoe Covers (2). NOS021625 Surgical Mask and shield (1). NOS021605 2 oz. Vital 1® Absorbent (1). Twist Tie. Shovel. Scraper. Poison Control Directory. 16 Unit Size Plastic Case.
Please Login to view pricing.