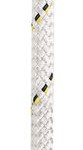 Static rope designed for difficult access and for fall protection. Fusion Process™ technology helps maintain the VECTOR 11 mm rope's shape and gives it excellent handling.
Available in four colors for easier identification of different kits: White, Red, Blue, and Black.
Comes in 46 m (150′) length or we can get 61m(200′), 183m(600′), 200m(656′) and 366m(1200′) lengths if you need it.  This rope can be cut and the end sealed.  This is a great cost savings over 5/8″ cotton covered 3 braid lifeline as you can flip the rope end for end or whack off the first 20′ and keep on using it.  This stuff is 1/2″ and rated for 31.6kN minimum breaking strength (7,100 #s).
Stronger, lighter, longer, and more abrasion resistant.
Full tech specs here.
Please Login to view pricing.