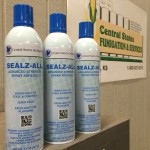 The SafetyQuip Company sells a custom-made, low-soak in, spray glue, SEALZ-ALL. This specially formulated SEALZ-ALL is for the professional fumigation industry and it adheres to all clean and dry surfaces and structures. This quick-drying, fast-tack formula is also heat resistant for temperatures over 100 degrees and cold resistant below 32 degrees for maximum adherence.
Until recently this has only been available to Inland Division customers. No order is too big or small. Try our SEALZ-ALL today!
Sold by the case, 12 x 14oz cans.
Please Login to view pricing.