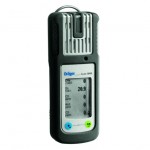 Dräger X-AM® 5000 Personal Monitor
The smallest 5 gas detector available worldwide! Its compact and ergonomic design make the Dräger X-AM 5000 the ideal companion for personal protection.
It will come with an LEL, O2, Dual CO/H2S, PH3 (phosphine), filter, NiMH battery, and charger.  Small, light, tough as nails. This is the confined space entry monitor you want.
Please Login to view pricing.