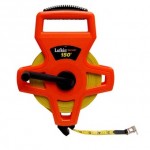 Lightweight open reel is easy to handle and rewind.
Hi-Viz ® orange case
Blade style: C1
This one is marked out in feet and inches.
UPC 037103454669
Blade Width (Inches): 1/2 in.
Blade Length: 150 ft.
Blade Style: C1
Case Color: Orange
Blade Finish: Fiberglass
Replacement Blade: Cat No. O1707
Blade Width: 1/2 in.
Please Login to view pricing.