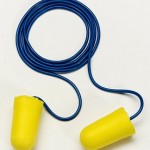 3M™ E-A-R™ TaperFit™ 2 corded earplugs provide a comfortable, individualized fit and excellent attenuation. Its smooth foam expands in the earcanal to help provide comfortable hearing protection.
– Soft polyurethane foam earplugs
– Flexible cord connects earplugs
– Noise Reduction Rating (NRR)*: 32 dB. CSA Class AL
– Test compatible with 3M™ E-A-Rfit™ Validation System
Here is the tech sheet 3M NRR
Sold by the box, 200 pair per box.
Please Login to view pricing.