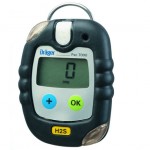 Dräger Pac® 7000
Safety in the workplace always takes top priority. The Dräger Pac 7000 provides a reliable warning against dangerous concentrations of 12 different gases depending on the sensor selection. Another unique option to the device is its five-year warranty for the H2S, O2 and CO versions.
This one will have a PH3 (phosphine) sensor installed.  Great low cost option for single gas detection.
Please Login to view pricing.