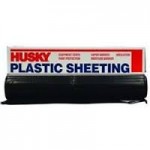 Poly-America Husky Black Sheeting measuring 12′ X 100′ is made of 4 mil polyethylene plastic. Heavy-duty sheeting can be used as equipment cover, vapor barrier, insulation, paint protection, moisture barrier and many more.
– Made of black polyethylene
– Covers up to 1200 sq ft
– Heavy duty coverall
– Used to winterize windows, cover equipment, as a moisture and vapor barrier, insulation and a paint drop cloth
– Also used as a vapor barrier and cover for curing concrete
Please Login to view pricing.