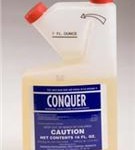 Conquer® Residual Insecticide Concentrate
For more than 15 years Conquer® has been the pest managment industry's leading general use pesticide of its kind. It's very broad label, multiple application sites, and variety of application techniques make Conquer® an unparalleled choice for today's PMP.
There is only one Conquer®, and it is everything you ever wanted in a general-use pesticide.
Approved Use:
– Labeled for control of major pests including cockroaches, ants, fleas, ticks, stored product pests, spiders, carpenter ants, and even deer ticks.
Application Techniques:
– May be mixed with water or oil
– Crack and crevice
– Spot treatment
– General use applications
– Apply as space spray using mechanical aerosol fogger or generator
– Economical
– Advanced chemistry (Esfenvalerate)
– Excellent control at extremely low concentrations
– Active ingredient % (.027% to .05%)
– Quick knockdown and fast flushing
– Excellent residual control
The leading general-use pesticide of its kind for more than 15 years.
12 x 1 pint bottles per case.
Please Login to view pricing.