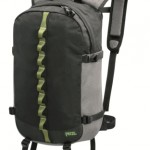 This is the backpack you want. Super tough, super cool.
Backpack for single-day multi-pitch climbing
The BUG was specifically designed for multi-pitch long routes climbed in a single day. Its rounded-edge rectangular shape maximizes volume and minimizes interference while in use. Suitable for carrying gear on the approach and when climbing (hydration system, food, clothing, shoes). Everything has been designed for maximum comfort while climbing with the BUG on the back: minimal bulk, shoulder straps allowing freedom of arm movement, comfortable and ventilated back panel, foldaway waistbelt, high positioning for access to back of harness (for chalk bag, gear), side compression straps.
Worn high on the back:
– allows easy access to the back of your harness (gear loops, chalk bags)
– enables a rope to be strapped to the bottom of the pack (carry straps)
– waist belt provides additional carrying comfort for heavy loads and tucks away for freedom of movement when climbing.
Side compression straps:
– allow the pack to be compressed, keeping the contents secure while climbing
– allow you to carry a jacket on the outside.
Rectangular shape with rounded corners:
– great balance of volume and shape provides plenty of room for gear without interfering with your climbing
– reduces wear from abrasion
Wide, ergonomically shaped shoulder straps:
– comfortable while wearing the pack
– stable on the back even without using the waist belt
– provides freedom of movement while climbing
– adjustable height sternum strap enhances security and comfort
Single top opening with sturdy handle: reliable attachment point, helps prevent loss of contents. Daisy chain, side compression and rope carrying straps allow for more gear carrying options
Clever design includes a guidebook pocket on the outside for quick and easy access, attachment loop for your e+LITE (emergency headlamp), zippered mesh pocket with key clip, small pocket on the shoulder strap for a topo map, and is hydration system compatible
Weight: 570 Gram
Volume: 18 liters
Material(s): nylon
Please Login to view pricing.