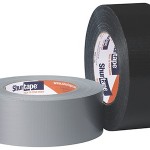 What can you say? It's a roll of duct tape. We use it for every fumigation that our crews go out on. We have tried so many brands, formulations and different kinds, you will just have to take our word for it. This is the best all around duct tape we can find that balances performance and price.
Sold by the case, 24 rolls per case. Each roll is 55 meters long. 36 cases per pallet, if you need that much give us a call. 800-527-8215
We can also get black duct tape if you need it.
Please Login to view pricing.